Fully Loaded bike Tour
The best of Ireland by Bike Louis Eyres
I Start my FLBT tour on Thu 17th May 2012 cycling to save a life
Please visit my 2012 FLBT    (Live Updates)
If  you would like the experience of a lifetime and a  FLBT of Ireland Contact me louiseyres@hotmail.com Thank you
Ok so you want to do some travelling on your bike, what kind of bike do you have, people have said to me you must have a really expensive bike the truth is my bike cost me £400 in 07 and it was a Trek 7.5 a really good bike in and out of town, not the quickest mind you  but yeh a good bike, the question should have been, you must have a really good Wife not only do I have a really good wife but my whole family are my life, pride, pleasure and happiness they are the people who keep me alive and help me achieve the things in life and the things in life are not the important things They are.
My fully loaded bike tour of Ireland in May 2012 is a CHARITY cycle tour for people that suffer with Heart Disease and People that suffer with Brain Trauma Charitable Funds Account No-4 Medical.  (Cycle for your Heart and Mind Living a Dream) so I ask you to DONATE generously when you continue to read you may understand why also a big thank you to all my friends and family.
If you would like to send a photograph of your FLT bike and the country toured I will post it on the site. your name bike name country name and photo. Go to Bike Tour Gallery
The time came when I decided to do a little touring on the towpath after suffering a heart attack, I asked the doc was it all right to do a little cycling, he told me not to over do it, he didn't know what I had in mind, the towpath got boring meeting people out for their early morning cycle and meeting them on the road back, the problem was I hated coming back the same route, and couldn't wait to get back to the house only to tell Mary, that's my wife by the way, that I was going to do a 168 mile cycle around Lough Neagh, she thought I lost the run of myself and when she knew that I was serious she was so thoughtful and very helpful, and the news spread very quickly the next thing I knew that Kellie and Maxine my two daughters and son Steven were on the scene only to help and make sure that I had all I needed for my tour,  this is where my fully loaded touring began, my Trek bike didn't have any bottom bracket mounts so I made some brackets to clamp to the carbon forks and very careful not to over tighten them, and realized at this point that my Trek hybrid was not made for touring, but still I had my bottom brackets on, I got a set of plastic mudguards the best investment ever, and to this day still as good as new, a Topeck rear rack again a good investment, and a set of try bars, a water cage a mini pump a kickstand, and back down the towpath just to see how old trigger would go a little bit heavier but still going well, just a mile or two, then to Halfords to see what kind of panniers I could get, I didn't know very much about panniers and relied on the shop assistant to help, but really I had more knowledge to what I wanted than him, I ended up buying four Dirt Monkey panniers cost me £30 for the four I don't think they are made anymore and I still use them with heavy duty plastic bags inside really good.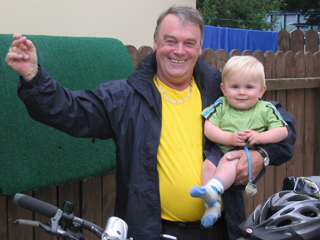 This is me by the way after having a Heart attack in Dec 06 just call me Louis and the bucko on my left arm with the blond hair is the Co pilot his name is Lorcan first Grandson. If it wasn't for the quick response of the surgeons at the Hospital believe me I owe them my Life, and my daughter Maxine who suffered a Brain Haemorrhage only for the Doctors and the medical team in Glasgow she wouldn't be here either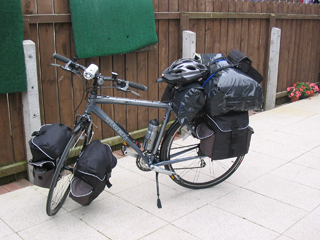 Here is Trigger (note the light) fully loaded no try bars yet, this is the start of my first fully loaded tour July 07 old trigger was very wobbly with all the weight 45 lbs on the bike. There wasn't much fuss when I started my first tour around Lough Neagh, but believe me I was excited, never thought for one moment that I could cycle 168 miles around Lough Neagh and off I went wobbling down the towpath with all that weight and as you can see I'm not that light either, I hadn't got a map thinking that I wouldn't need one, because I thought I knew the route but on a bike the tour is completely different to that in a car, touring on a bike will change your world one mile at a time, the best holiday or tour of my life, just one little thing that changed after suffering a heart attack, maybe it was something that I wanted to do when I was younger and didn't and waited until 07 at the good old age of 53 I took my time on my travels around the Lough, one thing I noticed that I wasn't the only one that had lost the run of  themselves I met other people on fully loaded tours eight people in all at different times, husband and wife towing a BOB trailer a fully loaded tourer from Holland in the same campsite and myself, I was totally amazed at the amount of people that travelled on a bike fully loaded, one thing came to mind after meeting them, they all seemed to be in a hurry to see how long it took to get from one place to another, even the Dutch man I met at the campsite, the next morning I got up and left early to start the day, the Dutch man had caught up with me and headed on I tried to keep up with him but to no avail about 30 miles on I did catch up only to find that he had stopped and had lunch, ah sure I told him that I had stopped and cooked lunch too, it was then I realised that I was on tour and not a race, take your time enjoy the miles, remember that your fully loaded bike is not a racing bike, if it's a racing bike you want then buy a racing bike, and always remember that you are on your bike to enjoy your travels enjoy your tour, it took me four days to cycle 168 miles approximately 42 day miles and enjoyed every single mile, on the road home I was thinking of doing it again, but as I got closer to home I started to think I wonder could I do a full tour of Ireland a flighting thought how could I tell Mary and the family what I was thinking, they would definitely think I lost my marbles, but I was already planning this in my head, well if I could cycle 168 miles around Lough Neagh stopping at the campsites along the way in July 2007 Surely I could cycle around Ireland.
When I got home Mary and the family Kellie Maxine & Steven, were asking how I got on, of course I tried to fill them in as best I could, but really you need to do this yourself to have any understanding of what a fully loaded tour is all about, a week went passed and I began to get itchy feet so I started to drop hints about my next tour, yep thats right a fully loaded tour of Ireland all of 2500 miles this time, I thought I had lost the run of myself, and no one was paying any attention to me at all.
July went by quickly into August and here I am again in August yep ready for my fully loaded tour of Ireland this is August 2007.
Note the try bars
I thought that I would take the offer and get a lift with Kellie and Mary to take me up the first steep hill out of Newry they let me of at the border between the North and South of Ireland at this stage I was laughing and joking to cover up the fear that I felt before getting on my bike, at this stage I could feel the emotion building up in me and shed a few tears when saying bye bye, really I had never left Mary for any length of time before and I surely felt the emotion, the first few miles was so difficult as I cycled into a 40/50MPH head wind I know it was July but I felt cold and miserable as the miles went by I began to feel a lot better as the scenery distracted me away from leaving home, maybe 10 miles or more and a few hills by then I had a smile on my face I suppose the feeling I had is like any one leaving home for a while. The whole fully loaded tour took me 7 weeks and old trigger never coughed once not even a puncture, except going into Wesport Co Mayo I broke two spokes, and had them mended in Westport great job, here is a few photo of my tour around Ireland, I took the photos to let you know the direction I was going and the road I left behind.
| | |
| --- | --- |
| Some good times and some bad times | Some more bad times |
| Wet weather again but as you can see no problem | You can see old Trigger in the distance the wet weather is taking its toll. |
| Trigger met an old friend along the tour | Trigger was as lonely as I was when we where leaving his old friend behind |
| Coughing up the miles at Curracloe wet weather subsiding. | BALLYHACK the rain is gone |
| Ballyhack Trigger wanted to go sailing. You would think he had enough of the water. | Farmer Joe keeps mountain goats |
| It never rains in West Cork | Old Trigger is showing signs of tiredness At the bottom of Ireland |
| This is where I am going to leave you for the time being the ELDON HOTEL Skibbereen where Michael Collins stayed for the night 1916 | a nice photo at the waters edge in Glengarriff |
| If you look to the distance that's where we are going Trigger and myself | People say its always raining in Ireland no rain after two weeks |
| Old Trigger is rearing to go heading for Killarney | This is one road less travelled fully loaded. Trigger as proud as punch at the summit. |
| Feeling the pressure but all down hill from here on right into Killarney Looking forward to this down hillier | Trigger enjoying the views over the lakes of Killarney. |
| And a cuppa scald | I just thought I would take a photograph of the Black Valley |
| We thought that we would kick some ass at Downbeg Golf club | When they saw Trigger they conceded before they even teed off we lifted the pot |
| We meet some friends at the cliffs of Moher as you can see Trigger is rearing to go the two babes are a bit down in the dumps, they don't even have kickstand and only half loaded credit card holder day troopers. | Heading for Galway old Trigger didn't know which way to go, at this stage of my fully loaded tour I had travelled over 1500 miles and looking forward to the rest of my journey. |
| As you can see Trigger is feeling the pinch he looks weary and tired looking to the left he is ready to quit he just doesn't want to go any further | We call it a day Near Co Galway |
I stopped to rest here on the outskirts of Galway for a few days before heading for Connamara I spent two days cycling through one of the most beautiful and rugged parts of Ireland.Then on for Westport Co Mayo as I approached Westport the back wheel began to buckle under the weight but some how made it into Westport where I got it mended by a coal man yep a coal man he actually repaired bikes in his spare time as a hobby and brilliant at the job, he repaired my bike in about ½ hour while I went and had my lunch I meant to get his name but just forgot but I will. I stayed the night in Westport and got up early next morning and hit the road for Castlebar, Ballina and Sligo. At this stage of my travels I felt pretty exhausted and began to miss home. When I reached Sligo at 2100 miles, I was in two minds to continue on, or cut across country and head for home some 200 miles, I camped in Sligo at Rosses Point for the night and got up early next morning and decided it was time to cut across country and head for home at this stage I thought that my fully loaded tour of Ireland was over I cycled towards Enniskillen and stopped at Glencar Waterfall and cooked lunch  and headed on through Enniskillen, Fivemiletown, Clougher, Augher, Aughnacloy, Caledon, Armagh and then the home straight for Newry some 20 miles from Armagh at this stage I was really wanting to get home and just keep going, head down and going like the clappers, its amazing the things you think about when travelling by bike, there was one thing that kept popping into my mind and that was, when I get home I would build a new home and believe me that is exactly what I did.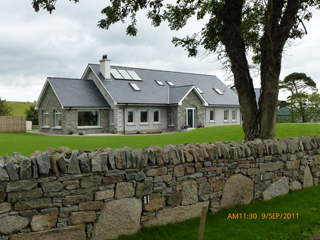 And here it is Glandore Lodge.  As you can see the date on the photo 9th Sept 2011 and Glandore Lodge is finished. Four years have passed and I am again planning another fully loaded tour only this time I am going to do it for Coronary Heart Disease and people that suffer with brain trauma Charitable Funds Account No 4 – Medical This is how it is now. I sold my Trek 7.5 and bought a new Specialized Tricross Sport and I am ready for my next Fully loaded tour so I am putting my feelers out to anyone who would like to accompany me on a trip of a life time. I am planning to do a fully loaded 7 people cycle tour of Ireland again and that includes myself. So if you would like to contact me for more details on the starting date and all the things that you need, it doesn't matter what part of the world you come from, email at  louiseyres@hotmail.com  I am thinking of a date in May 2012 I have only got room for six people. I will need to know before the end of February 2012, to find out more there is no time like the present time to make arrangements so email now. The tour will take approximately 6/8 weeks at approximately 50 day miles; here is a run down of my gear and equipment.I traded in my Trek 7.5 I just thought that this bike wasn't made for touring no add on for front panniers and got a New 2012 SPECIALIZED Tricross Sport more comfortable lighter and stronger, I use plastic fenders that I bought in 2007 for the Trek really first class wouldn't be with out fenders, a Topeak super tourist DX rear carrier two aluminium front pannier racks and a Pletscher Kickstand really handy.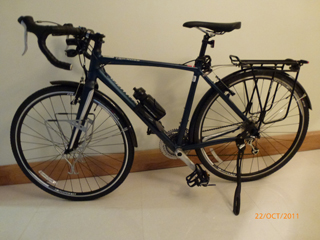 Here is my New Specialized Tricross Sport which I bought from David O Sullivan in Killarney the best bike shop in Co Kerry. Four Dirt Monkey Panniers not the best in the world but with heavy duty liners they do the job just fine, that's the bike racks and panniers Camping gear I use a good old Vango Spirit 300+ yes a 300 which I bought new in a sale on the internet £150 I do like my comforts with a little more room weighing in at 3 kg, one of the reasons I bought a 300 because I can get the Tricross Sport or old Blue in the porch at night it just might be there when I awake in the morning, I had a Vango in 07 and was the best tent I ever owned, or you could go for something similar in size like a Hilleberg Nallo 3 GT tent coming in at a higher price tag of £679  I use a Robens down 500 5 season sleeping bag comfort rating of -1 extreme -16, in the summer I use this sleeping bag as a quilt I just open it up and through it over me it saves me waking up like a tangled chicken more movement under the quilt and again weighing in at a mere 1.1 kg and a cost of £59 my pad is a multimat adventure air bed .45 g cost £24 and a foam mat for underneath a small Vango light weight stove two little aluminium pots which I use for cooking everything, a plastic mug, that's most of the main things needed and of course all your personal belonging computer TV fridge phone kitchen sink overcoat pillow slippers suit shirt & tie shoes pyjamas 7 or 8 sweaters 10 pair of socks 20 pair of under wear then don't for get the soap bag with the electric shaver and hair dryer, believe me when on a fully loaded tour you need to keep your weight as light as possible, I would say that each of my panniers would weigh approximately 3 kg each and on the Topeak back carrier would be another 4 kg total weight on the bike approximately 16 kg not the lightest like I said I do like my comforts,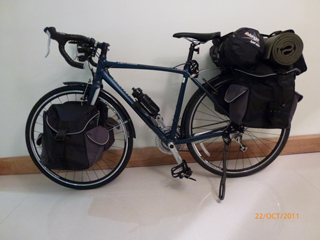 here is old Blue fully loaded and ready to go For more information on the 2012 fully loaded tour email me louiseyres@hotmail.com
I hope you found some things helpful for your journey and your FLT, where ever you go be at peace with yourself and it will be an incredible journey, I am now preparing for my next FLT in May 2012 if you would like the experience of a life time and a FLT of Ireland contact me louiseyres@hotmail.com thank you.
I have now started my trainning program for my FLBT starting on Thu 17th  May 2012
1st day Tue 10th Jan 10 miles
Wed 11th Jan 25 miles
Thu 12th Jan 14 miles
Fri 13th Jan 25 miles
Sat 14th rest day
Sun 15th 50 miles
Now cycling 25 miles every other day
Now cycling 20/25 miles every other day and 40/50 miles every other day and 1 day rest
Starting my count down and looking forward to my tour of Ireland and like to take this opportunity to thank all the people that give their time in helping to collect money for the Southern Health & Social Care Trust & Heart Disease but most of all I would like to Thank the people that give a DONATION when we were bag packing in Newry on Sat 3/3/2012 I was so pleasently surprised at the amount of people that give a DONATION the moneys given on that day totaled £700.50 and  20 euros once more I Thank you Louis Eyres.