The Wild Atlantic Way
I Start my FLBT tour on Thu 17th May 2012 cycling to save a life in aid of S.H.S.C.T Southern Health & Social Care Trust for Heart Disease & Neurological Care
Fully Loaded Bike Tour of Ireland
The Best of Ireland By Bike Louis Eyres
THE WILD ATLANTIC WAY 2015 by Louis Eyres.
I am now making plans for my next FLBT this time it will be the Wild Atlantic Way of Ireland some 2700 km 1600 miles 2015
I am going to start in Kinsale co Cork cycling south to north and keeping the Atlantic sea to my left hand, I am also cycling for charitie all proceeds will go to coronary heart care charitie.
I will be leaving my home in Newry Co Down Northern Ireland and taking off on my 3rd  long-distance bicycle tour. This is going to be my longest bicycle tour to date… as I plan to be on the road for a little over 2/3 weeks and will be cycling around  Ireland. This will be my third long-distance bicycle tour and my first time ever cycling over 1000 miles without leaving my home country so I am super excited! The first part of my FLBT will take me south along the east coast towards Dublin, Bray, Greystones, Wicklow and the Irish sea to my left  camping every night. Another part of my journey, Arklow, Gorey then into Wexford. From there I will still be going South into Waterford, Dungarvan, Youghal, Midleton and then into Cork and cycling into Kinsale for the Old Head of Kinsale, Clonakilty, Skibbereen, Crookhaven and Mizen Head. As I am writing this, my little grandson Lorcan, now 5 years old, has just asked me; "Granda how many sleeps will you be away, Nanny why is Granda going on his bike. It has just brought tears to my eyes at this very moment.
Saturday 13th May did my last training spin 47 miles, before Thursday 17th when I will leave home. I have packed all my gear, 4 painners and my tent and the emotion is building up.
I would like to take this opportunity to thank all the people that helped me with the bag packing and to make all this possible but most of all I would like to thank all the people that gave donations. So far the money raised is £1400 so thank you very much (Louis Eyres) The day has come for me to start my travels and FLBT of Ireland.  Just a little photo and a reminder of my Fully Loaded Bike and of course my grandson Lorcan  5 years later at the good old age of 5 1/2 years.
And here he is, do you remember Lorcan when he was in my arms in 2006 at 1 1/2 years This is old trigger Fully Loaded and ready to go all 40lbs of weight the bike is a 2012 Specialized Tricross Sport designed for touring so here goes.  The first leg of my journey around Ireland takes me to Redcross River Valley camping site at the foot of the Wicklow mountains with the rain pelting down. The rain had just stopped as I set up camp. I met a man in a restaurant and he gave me 10 euros towards my charity. His name was Stuart. Thanks Stuart I hope you got home safe. 6am came quick as I crawled out of my tent after a full nights rain I was  perfectly dry. At least the old Vango Spirit tent was waterproof. Cooked breakfast and was on the road at 7am heading for Avoca with the rain still pouring down. Things were difficult but I had an advantage the wind was on my back and helping me along.
(Film set and location for Ballykissangle) As you can see the rain has subsided but not for long.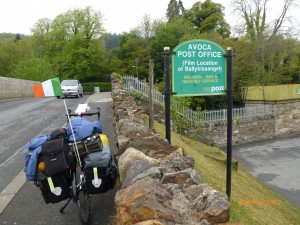 This is the Avoca river that runs from the Meetings of the Water. This bring back old memories from 2007, the emotions start to build up.
The Meetings of the Water Avoca as I cycle along the R754, R747 towards Arklow, Gorey then R742 towards Courtown.
It was here I began to notice the hardship and the recession nearly every house along the R742 coast road was derelict or closed up. It was incredible. Still raining as I cycle into Ballygarrett, Kilmuckridge, Blackwater, Carracloe, Castlebridge the A742 into Wexford where I set up camp in Ferrybank Caravan & Camping Park. A really nice camp site. After setting up camp the rain started again so I decided to treat myself to an Indian meal that went down well.
Ferrybank campsite.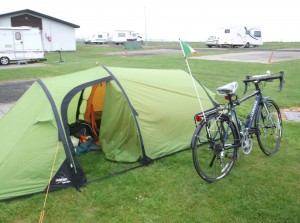 The highlights of Ferrybank were free camping for my charity S.H.S.C.T and free showers, brilliant. The rain has stopped again, not for long though, as I bed down for the night,  I want to leave early next morning and get up at 6am to be on the road for 7am heading for Ballyhack along the R733.
It was here I crossed on a little ferry to Passage East.
Passage East Harbour.
I hit the road for Waterford the N25 to Dungarvan, Youghal, Cork. The R600 for Kinsale and continued on to Timoleague.  The N71 Clonakilty, Rosscarbery, Skibbereen and Ballydehob. The R592 to Scull and the coast road into Crookhaven and in Crookhaven all the fun began!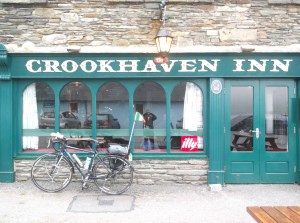 On the dance floor!
I decided on my tour of Ireland I would cycle to Mizen Head the most southern part of Ireland and then cycle from Mizen Head to Malin Head the most northern part of Ireland.
As you can see the weather is taking its toll at Barley Cove Campsite in Crookhaven as I look forward to the high road for Mizen Head some 6 km climb into the mountains with magnificent views over the Atlantic ocean and the footbridge to Mizen Island!
The highlight of my stay at Barley Cove Campsite Crookhaven was when I met Benji, his wife and daughter who were on holidays in their silver bullet caravan and this was their maiden voyage. Benji and I got talking about my Fully Loaded Bike Tour and their stay at Barley Cove. He asked me over to their caravan where we had breakfast and a chat. Such great hospitality.
Thank you my friends I hope I can return the favour one day soon.
After staying at Barley Cove caravan and camping site in Crookhaven and cycling to Mizen Head the turning point of my FLBT of Ireland it was time to head north after a days rest I felt refreshed and ready to go and the weather was getting better with the sun peeping through the clouds I was on my way, I decided to take the coast road and head for Dunmands, Durrus, Bantry, a high road across the mountains with breath taking views photographs taken between Mizen Head and Bantry
I didn't stay in Bantry to long and cycled on for Ballylickey and Glengarriff where I stoped for the night in a small camp site on the ring of Beara near Glengarriff
I got up to the early morning sunshine first sunshine in over a week, I was trying to decide which way to go was it going to be over the Healy Pass or the Caha Pass across the N71 into Kenmare, I had already been over the Healy Pass back in 2007 (decision time)
I decided to take N71 over the Caha Pass into Kenmare and would say that this was one of the best highlights of my FLBT of Ireland so far, the road took me so high into the mountains I was actually going into the clouds, it was breath taking some of the pictures going over Caha Pass.
This guy reminded me of someone I knew one time he turned out to be a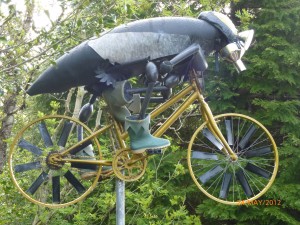 catch me if you can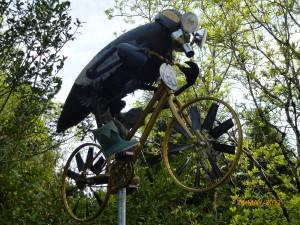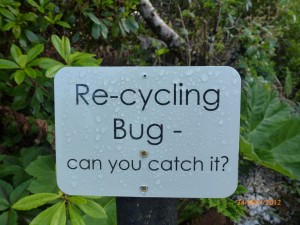 who burnt himself out this guy doesn't have what it takes to do a fully loaded bike tour of Ireland or a FLBT of anywhere and thats exactly what he is a Re-cycling Bug.
Traveling the N71 over the Caha Pass from Glengarriff into Kenmare Co Cork it is magnificent.
This is where the N71 is cut through the mountains I had to wait for the road to clear before cycling through, a scary moment.
No room for me and the bus                                      safely on the other side
Still on the N71 cycling through Moll's Gap going towards Killarney.
The Gleneagle Hotel Killarney and O'Sullivan's bike shop Killarney this is where I bought my Tricross Sport bike one of the best bike shops in Co Kerry. I thought I would stop at White Bridge caravan and camping site for the night before taking N72 for Tralee.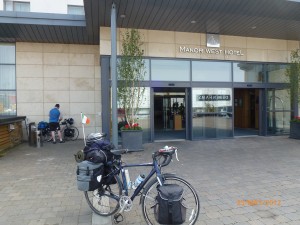 I decided to stop at the Manor West Hotel Tralee and treat myself to breakfast, the hospitality at the Manor West was absolutely fabulous with a free breakfast and all the fruit I could eat I didn't stay in tralee for long and headed on for Listowel on the N69 straight to Tarbert
where I got the ferry across the Shannon to Killimer and took the N67 for Kilrush at this stage I had cycled over 74 miles and was feeling the pinch only to find the camp site at Kilrush was deserted there was mobile homes but no one there, the next camp site was in Kilkee but to far away as I was getting very tired so I took the R483 for Cooraclare a little village where I thought I could get B & B after cycling over 84 miles that day I was glad for the rest and a hot shower in M. Tubridy's pub and B & B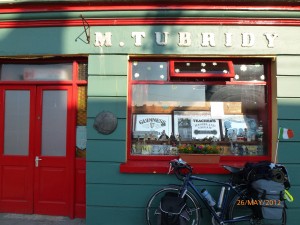 The next morning after a realy good nights sleep and a nice breakfast I was on the road early and try to get to Doolin before 1pm to catch the ferry across to the Aran Island with a 30 mph head wind and the Cliffs of Moher to contend with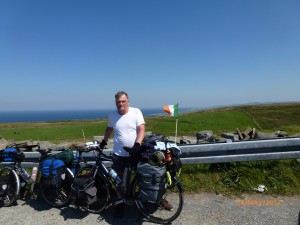 the Cliffs of Moher with the Atlantic in the backdrop
I just made it with only 10 minutes to spare and hoped on the ferry for Inisheer, Inismaan, Inismore at this stage of my FLBT of Ireland I was so relieved for some reason I felt at peace as I sailed over to the Aron Island and the trip was again one of the hightlight of my FLBT
The Inisheer ferry
I took these pictures just before getting the ferry to Rossaveel Connemara Co Galway.
Connemara Co Galway one of the most senic parts of Ireland not to be missed on a FLBT.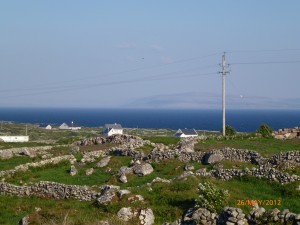 Connemara Co Galway
Wesport Co Mayo                               Bohola a little village along the N5 Co Mayo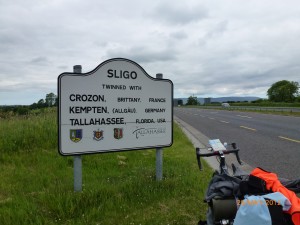 I was very surprised to see a FLBT Tandom freewheeling down a nice sloping hill straight into Strandhill on the outskirts of Sligo this is where I met Danny and Kim from Cumbria we chatted for a while and then exchanged numbers they were really enjoying their tour and the hospitality, they had made a 200 mile detour to go to Westport for the festival and then heading for the ferry at Larne.
An Irish cottage on the N15 Co Leitrim heading for Bundoran, Ballyshannon and Donegal
Bundoran Co Donegal
Ballyshannon Co Donegal                               the Abbey Hotel Donegal Town
Stayed in Ballybofey for the night and got up early next morning and headed for Malin Head
I stoped on the N13 at Country Kitchen Diner for breakfast the highlight of the day was when I met Johnny the owner and we talked for a while, the hospitality was first class and he donated to my charity well worth a visit. thanks Johnny.
I headed on for Letterkenny and Bridgend it was here I saw the first sign for Malin Head I felt emotional and excited to think that some people have tryed to cycle from Mizen Head to Malin Head and couldn't do it and here I was on top of the world only 73km from Malin Head, ( here we go here we go here we go) the radio station Downtown had put a request out for me many thanks Downtown
Downtown radio station put out a request
When I got to Malin I decided to treat myself to a nice B&B and a steak dinner so I stayed in Mary's B&B main street Malin I have to say it was one of the best B&Bs I have ever stayed in hospitality was superb I got up at 8am and cycled light 14km to Malin Head, I left my gear at the B&B and picked it up on the road back from Malin Head
At this moment of my FLBT I realized that its not all to do with being fit or being able to cycle long distance but you need to have the right mental attitude to take your time and enjoy the experance of a FLBT.
To do a FLBT of Ireland and take in Mizen Head and Malin Hhead was a great experience I was now on the R242 heading for the ferry at Greencastle to cross for Magilligan Point and head for home a great feeling of achievement as I sailed along with a nice breeze on my back and on the flat.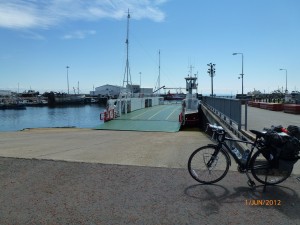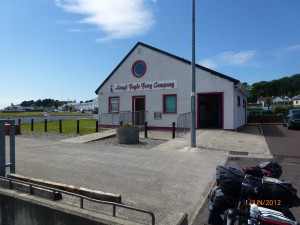 Lough Foyle Ferry Company
Magilligan Point
Im on the home straight Magilligan Point, Coleraine, Maghera, Cookstown, Dungannon, then I cut across to the towpath in Portadown and all the time the wind is on my back
The Towpath Portadown twenty miles and then home I was thinking all the time from Portadown about another FLBT soon. The main event of my FLBT of Ireland came lithely two miles from Newry when I met a young man his name was Scott a FLBT from Florida touring the world.
Scott cycled the final four miles with me into Newry and asked me would I like a beer to celebrate my FLBT of Ireland we had a long chatt over a cool pint of Guinness in the Bridge Bar in Newry thank you Scott you made my Fully Loaded Bike Tour of Ireland complete I wish you well my friend take care.
One month has gone past now and so many people have emailed asking could they join me on my next FLBT. I am staying at home for a while just to get the batteries charged and plan my next Fully Loaded Bike Tour. I will let you know in good time it will be on my website soon.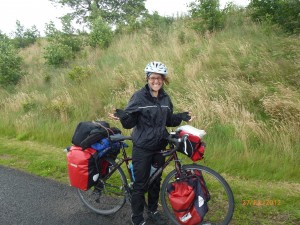 This is Natalie a young Lady fron Canada I met on the outskirts of Newry on the A1 she was nearly finnished her FLBT of Ireland, take care Natalie I look forward to hearing from you. Louis